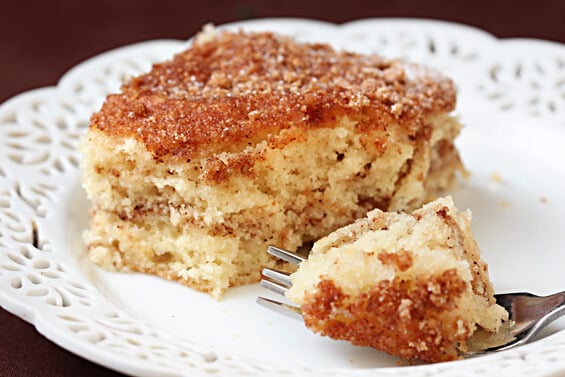 I am normally not a breakfast cook. There aren't many mornings in a year when I get up to make a full breakfast. My idea of breakfast is yogurt and a granola bar or instant oatmeal or fruit... very occasionally scrambled eggs and toast! If you are having guests overnight (which was the case for me and my sister last weekend) and don't have time to get a huge meal together, this is a great option for breakfast. Add some coffee and cereal or fruit and you have a delightful (not to mention light) breakfast!
My mother has a recipe for sour cream coffee cake somewhere, I believe. I'm not sure if this is exactly like it, but it turned out delicious. Very moist, and not too sweet. It makes a 9x13 pan, so you can either serve it right away or freeze some. I should have stuck some in my freezer, but I wasn't too smart at the time. ;)
I got the recipe from Ali at
gimme some oven
and I love all her recipes. I follow her on Pinterest and quite frequently see something that looks great. I followed the recipe exactly. Five stars for
this
! Next time I may try to make a more crumbly topping just for fun.